Whether out for a leisurely stroll down the streets of Shinjuku or heading to Kappa Sushi for some 105 yen (sorry, 108 yen) sushi dishes, the powerful role of animation and animated characters in Japanese culture is hard to miss. Anime has permeated all facets of modern culture in Japan, from the more obvious "Otaku" culture essentially based on anime, to the "yuru-kyara" characters developed to promote regional travel in Japan. However, while generally associated with entertainment and leisure activities, animated characters in Japan play a strong role in promotion and education regarding more serious subjects as well.
While not receiving nearly the same amount of international media coverage or exposure, animation and animated characters have played a central role in awareness, promotion and branding campaigns of more serious subjects in Japan. Pharmaceuticals and healthcare in particular have a long history of animated character and mascot use in branding strategies. Pharmaceutical companies tie their corporate image to cuddly characters, while using brand or product-specific characters to both promote pharmaceuticals and educate regarding their proper use.
Although pharmaceutical industry use of animation in branding and promotional activities is not unheard of in western countries, animated characters generally serve only in an ancillary capacity rather than as the focus of promotional activities, brand or trademark development. In the few cases when animated character-themed campaigns have been launched, they are generally limited to licensed use of animated cartoon series or movie images rather than original creations by the manufacturer.
One simple explanation for the virtual absence of animated characters and personas from pharmaceutical branding in western countries relates to the legal environment, specifically the scrutiny under which pharmaceutical companies operate. Laws and regulations implemented by government regulatory bodies such as the FTC have taken an increasingly harsh approach to animation and animated character use in promotional activities by industries involved in products or substances deemed harmful to minors.
Not only legal regulations and government guidelines, but also public interest groups can be very unforgiving when it comes to promotional messages messages perceived to target minors (who then lobby regulatory bodies to increase regulation or even ban specific campaigns). Thus, the perception is that use of animation and implementation of animated characters in promotional campaigns is tantamount to youth-targeted product promotion.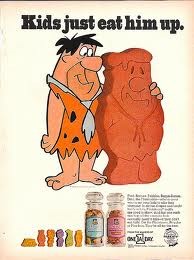 While there have been a handful of animation-centric pharmaceutical promotional campaigns over the years (one of the longest being that of Flinstones' kids vitamins),  public censure tends to be swift at the launch of pharmaceutical campaigns perceived to be directed at children, and while the legality is still a grey area, the FTC has been known to step in as well. When Merck decided to use characters from Disney's "Madagascar 3" animated film in its promotional efforts for the Grape Flavored Children's Claratin, headlines reading "Big Pharma's New Low," "Health Groups Criticize Allergy Drug Promotion" were seen in publications nationwide.
This is not an issue unique to the pharmaceutical industry, rather, from tobacco to twinkies, a whole range of industries, companies and products have found themselves to be the target of lawsuits related to promotional methods perceived to improperly target children.
As a result, animated character appearance in western pharmaceutical advertising campaigns generally does not go much further than the ancillary and short-lived involvement of Mr. Mucus (Musinex), and involves minimal character development (not to mention being decidedly un-cute).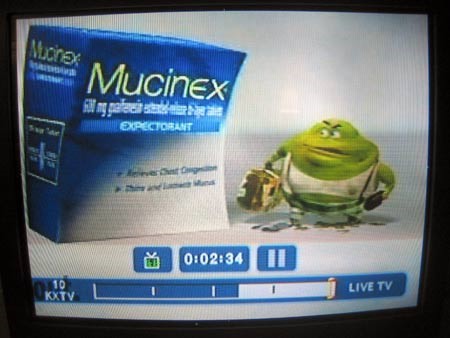 As opposed to attempts in western promotional campaigns, Pharmaceutical companies in Japan generally develop and implement their own original characters, rather than piggybacking on the most recent Disney film. While this approach in and of itself would not necessarily make the campaign immune to the perception of inappropriate targeting, conversely tying the campaign to movies or television series with an overtly youth audience is more likely to raise eyebrows. Furthermore, the use of non-original characters, like celebrity endorsements, cedes much of the control of that image to the licensor, as well as limiting the exclusivity of the image, in some case even causing brand or target confusion. In the Claritin/ Madagascar case, use of characters from the Disney movie were licensed to at least 15 different companies for use in promotional campaigns, including McDonalds, Airheads candy, and other youth-oriented products, further exacerbating the public perception of improper audience targeting by Claritin.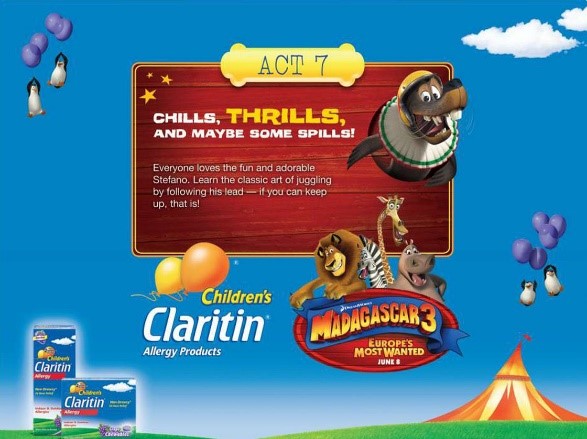 However, while the differences in legal environment and public perception may be the most salient difference between Japanese and western operating environments contributing to the difference in promotional strategy, it would be better to look at this as a "symptom" rather than the "underlying cause" of the deep-seated cultural differences and norms which form the foundation for the variance in promotional approaches.
While pharmaceutical marketing strategies targeting children might encounter a similarly critical reception by consumers in Japan, the use of animation in promotional activities is not necessarily indicative of a youth-oriented promotional campaign. Comic books and cartoons are generally limited to a young audience in western countries (kids trading in their comic books for cars at 16). However, there is virtually no age barrier to interest in animation and animated characters in Japan. It is not uncommon to see older men struggling to read the weekly manga comic books on the shoulder-to-shoulder rush hour trains during their morning commute, and the innumerable "yuru-kyara" regional characters probably have more adult fans than youth.
At present, virtually all pharmaceutical companies in Japan employ at least one animated trademark or mascot, most of which have undergone in-depth character and plot development reminiscent of the mystical world developed around the long-running popular animated series "Ge-ge-ge no Kitaro."
This should not be surprising at all, considering "Ge-ge-ge no Kitaro" is based directly on Japanese Shinto mythology and animism, in which all manner of living and non-living objects can be instilled with identities and personalities (forgive the gross oversimplification). Some of the longest running characters actually have direct roots in Japanese mythology. SSP's "Pyon-chan" was taken from the tale of "The Hare of Inaba," one of the first references to healing and medicine in Kojiki (古事記)Japanese mythology. In fact, the vast majority of animation animated characters in Japan are either directly or indirectly connected to the intertwined Buddhist and Shinto mythology which plays such an integral role in Japanese culture. Although not the central theme of this article, this is one factor that explains the "ageless" nature of animated characters in Japan.
Japanese Pharma companies also expressed an early understanding of the importance of stakeholder involvement, with the better half of character names having been decided democratically. Viewers of television commercials and newspaper ads, participants in events, and in some cases employees of the parent company were encouraged to "vote" with their favorite name for the character. In some cases, the character itself is a stakeholder original creation, as in the case of Zenyaku Kogyo's "Yakumin."
To illustrate the level of detail involved in the character development, the following is a description of the history and profiles of some of the more well-known Japan Pharma characters. This is by no means a comprehensive account of all Japan Pharma characters, however it should illustrate the depth and breadth of character involvement in the Japanese health care industry.
////////////////////////////////
1. Kero-chan and Koro-chan (Kowa Company, Limited)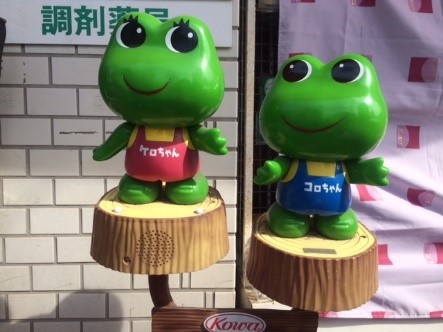 ケロちゃんとコロちゃん(興和創薬株式会社)
First named "Korogen no Kou"  after the cough medicine, the frog character was born in 1949. Themed merchandise such as finger puppets began appearing in the late '50's, while he made his television debut in 1963. He met Kero-chan in 1977, and they have been appearing in storefront displays together ever since. You can play online games with them on their website.
https://kr2.kowa.co.jp/friends/kerokoro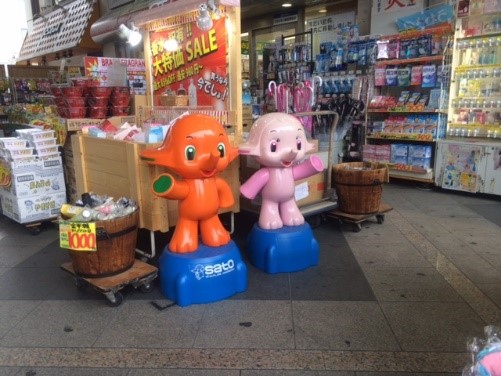 2.Sato-chan (orange) and Satoko-chan (pink) (Sato Pharmaceutical Co, Ltd)   サトちゃんとサトコちゃん(佐藤製薬株式会社)
At about this point Noah's ark may be coming to mind, but not all characters come "two of a kind."
Sato-chan was born on Apr. 10, 1959. Viewers of the advertisements voted on his name. 46,600 viewers voted for "Sato-chan." His sister Satoko-chan was born in 1982.
Sato-chan likes baseball, swimming, music, and all sports. He likes to play catch with his friends in his spare time. He likes his job as the drug store "symbol" and is waiting to help you every day when you aren't feeling well. Satoko-chan likes reading, making sweets, music. She is studying healthcare to help children feel good every day.
Visit the Sato-chan museum, sing along with the Sato-chan song, play Sato-chan games or just buy some Sato-chan merchandise in Sato-chan town!   https://www.satochan-studio.jp/index.html
3. Pyon-chan (SSP Co. Ltd)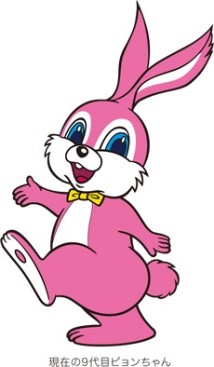 ピョンちゃん(エスエス製薬)
Pyon-chan was born in 1952, based on the first mention of medicine in Japanese mythology, "Inaba no Shiro Usagi" (因幡の白兎), where a rabbit was said to heal wounds. Aside from the mythological link, the rabbit was meant to symbolize cleanliness and vitality.  https://www.ssp.co.jp/corporate/history/pyonchan/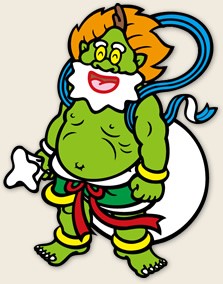 4. Kaigen-san (Kaigen Co, Ltd.) 風神さん(株式会社カイゲン)
Kaigen-san was born in China in the 6th century AD. His mission is to protect the health of everyone in the world, and help those who catch colds recover quickly. He is a God so he can change his height at will, but he tries to choose a height that won't scare anyone. His favorite foods are anything healthy, but especially dried seaweed. His special skills include flying, creating wind, and disciplining bad people. He is kind and reliable, but especially shy.
https://kaigen.tv/room/index.html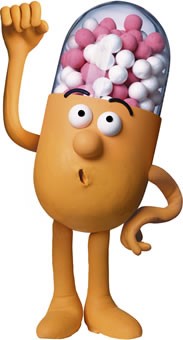 5. Mr. CONTAC (CONTAC, GlaxoSmithKline Japan)
A special case among Japan Pharma characters, Mr. Contact is actually in charge of promotional activities for a non-Japanese pharmaceutical company. However, Mr. Contac is used exclusively for GSK promotional activities for Contac flu medicine in Japan.
Mr. Contact was born on Feb. 28, 1966. He has never measured his height or weight. His favorite activities include billiards and playing the organ, and is personality is that of a typical person from Kansai. He is fast and effective. His favorite thing to say is "do you feel better yet?" He is currently living in Osaka, and his dream is to be the president of the company. https://contac.jp/funzone/profile/  https://www.bravis.com/en/glaxo_smith_kline_k_k/proj034.html
6. Ruru Spacemen (Daiichi Sankyo Healthcare Co. Ltd.) ルル星人(ルル、第一三共ヘルスケア)
Lulu Seijin (Lulu Spacemen) made their first terrestrial appearance in 2001, in celebration of the 50th anniversary of Lulu cold medication. With pill-shaped heads, the three brothers were meant to symbolize the recommended dosage (3 tablets/ dose).
The Lulu family lives in the Belladonna nebula (named after the belladona alkaloid extract used in Lulu medication). Their mission is to protect the universe from catching colds.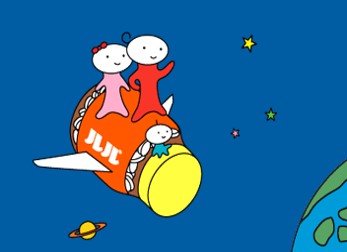 Aside from the core team of three, Lulu Seijin involve numerous sub-characters, including Lulu papa, Lulu mama, the family dog Lulu bau (who apparently has bad breath from his perpetual cold), the villain "Kaze-kin man" (Cold-virus man), as well as many other ancillary characters such as Monokgusa seijin (Lazy spaceman) and Nazonazo Seijin (mysterious spaceman). Read more about their adventures or play games with them on the Meiji Lulu Seijin website.
https://www.daiichisankyo-hc.co.jp/site_lulu/luluseijin.html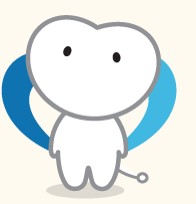 7. Yakumin (Zenyaku Kogyo)ヤクミン(全薬工業)
Selected from 152 potential mascots created by Zenyaku Kogyo employees, Yakumin is the "medicine fairy" who lives deep in the forests of Yakumin island with his numerous friends such as "Garamin" the gargle fairy, Bitamin the vitamin fairy, and Pikamin the brush your teeth fairy (not to be confused with the tooth fairy), and Sanmin the suntan fairy. Yakumin is 30cm tall, and his specialty is playing the Okarina instrument. Visit Yakumin world on the Zenyaku Kogyo website.
https://www.zenyaku.co.jp/yakumin/index.html
8. Zeria-chan (Zeria Shinyaku Kogyo)ゼリアちゃん(ゼリア新薬工業)
Zeria-chan was born in 1965, but was called simply "kuma (bear)" until 1968, when the company began accepting votes for the character name. Out of 30,000 votes, "Zeria" was chosen as the name of the 3-year old mascot. Soon after, Zeria-chan stuffed animals, piggy (bear) banks, erasers and all manner of Zeria-chan promotional merchandise began appearing in drug stores.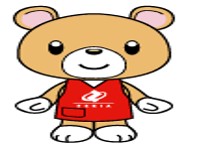 Zeria-chan's gender is unknown, but Zeria is known to be kind and always energetic. Zeria is very emotional and easily moved to tears. Zeria-chans favorite foods are maple-syrup cream puffs and sushi, and enjoys mountain climbing. Like Mr. Contact, Zeria-chan hopes to be company president one day.
https://www.zeria.co.jp/healthcare/zeria-chan/aisatu_1.html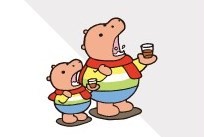 9. Kaba-kun (Isojin, Meiji Seika)カバくん(イソジン、明治)
Kaba-kun (Mr. Hippo) was born in 1985 as the mascot for Meiji's Isojin gargle. An appropriate character given his large mouth, Kaba-kun is 4 years old, and is often depicted with his family members Kyaba-kun mama (age 28), Kyaba-kun papa (age 32), and Kyaba-kun's sister Pipi-chan (age 3). Join the Kaba-kun club to watch Kaba-kun movies, or simply browse the Kaba-kun channel and check out event information where Kaba-kun will appear in person on their website.
https://www.meiji.co.jp/drug/isodine/index.html

10.Yururin (Ichijiku Pharmaceutical Co, LTDするりん(イチジク浣腸 、 イチジク製薬株式会社)
While perhaps not a direct factor in the adoption of animated characters as a medium for promotional activities, one aspect of Japanese culture that becomes apparent when observing some of the animated characters that appear as mascots for certain illnesses, is the general lack of uneasiness or shame regarding bodily functions or treatments. Many visitors to Japan are taken aback by advertisements in drug store windows for laxatives with results-oriented illustrations. Some mascots for specific illnesses also tend to exhibit the ailments or treatments they represent, whether it be treatments for erectile dysfunction, or in this case, a bird hawking enemas.
Yururin was born on Feb. 1st, 2006 as a Mina bird. While relatively young compared to his (her?) counterparts, Yururin themed stuffed animals and other merchandise are gaining popularity (available only with purchase of enemas).https://www.ichijiku.co.jp/sururin/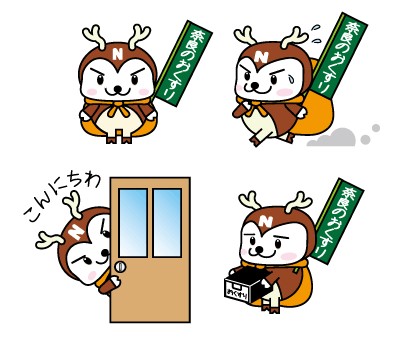 11.Nakani-shika  (Nakanishi Medical Co, Ltd.)ナカニシカ (中西薬品)
A more recent addition to the team, Nakani-shika is a deer born 3 years ago in Nara prefecture. He likes to eat senbei crackers and his job is delivering pharmaceuticals.
https://soha81.com/93naka24/news/2013/05/25/28/
////////////////////////////////////////////
Thus, although recent trends in the legal and regulatory environment as well as the consumer group activities have certainly contributed to the variation in branding and promotional approaches available in western countries versus Japan, the prominent role animated characters play in the promotion of pharmaceuticals has much more to do with the way animated characters are interpreted, particularly in terms of including a much wider, non-age specific audience. Pharmaceutical companies, just as those operating in any industry, must craft their promotional program to the needs and cultural context of local markets. While the risks may be greater than the benefits for animation-centric pharmaceutical promotional approaches in the US and other western countries, international pharmaceutical companies may benefit by looking at the approach of GSK, who successfully introduced the Mr. Contac character specifically for the Japanese market. One can only hope, though, that when international pharmaceuticals do decide to pursue animated character promotional activities in Japan, that they would not take the lazy license approach and let their entire campaign rest on the shoulders of the most recent Disney release.
Next Time:
Part 2: Hello Hemophilia: Animated Characters and Disease Awareness
Part 3: AKB48 for your Allergies: Popular Trends in Pharmaceutical Promotion
 【ご意見ご感想がございましたら、こちらのメールアドレスまでご連絡ください。: goiken@sugataresearch.com 】