---
About the IRIS COVID-19 Public Sentiment Survey
IRIS, a global network of independently owned market research institutes, recently conducted a multi-country market research study that aims to understand how the general public are feeling in relation to the worldwide COVID-19 pandemic. The project surveyed respondents on their fears and concerns, confidence in government and the economy, and understanding toward COVID-19. Overall, 15 countries took part in this study, with all fieldwork undertaken online between March 27 and April 15, 2020. A nationally representative sample of adults aged 18+ was interviewed in each country.
This article is part of a series that will look specifically at results of the survey conducted in Japan by Sugata Research. The full report covering all participating countries in the IRIS COVID-19 Public Sentiment Survey can be downloaded from the link below.
>>> LINK TO PDF <<<

---
---

At the beginning of the COVID-19 pandemic, Japan was one of the first countries to report infections outside of China. However, as infections spread throughout China and eventually exploded in countries like Italy and the United States, the number of reported cases in Japan remained comparatively low until the latter half of March. Following a press conference on March 25 by Tokyo Governor Koike Yuriko in which she urged Tokyo residents to avoid unnecessary outings and work from home, pressure mounted on Japan's Prime Minister Abe Shinzō to declare an official state of emergency to combat the spread of COVID-19. On April 7, Abe announced a state of emergency for Tokyo and six other prefectures (Chiba, Saitama, Kanagawa, Osaka, Hyogo and Fukuoka), later expanding the declaration nationwide on April 17, tentatively scheduled to last until May 6 after the end of the Golden Week holiday season.
Reactions by the public toward measures taken by the Japanese government to slow the spread of COVID-19, however, have been largely negative, as results for the survey conducted by Sugata Research for the IRIS COVID-19 Public Sentiment Survey suggest. The survey measured the opinions of 1,000 adults between the ages of 18-70 years old across Japan, with the results showing a stark contrast in public opinion toward government responses when compared to other countries in the IRIS survey. The following article will look at some of these results and their potential implications in the context of the Japanese government's response to the global COVID-19 pandemic.
---
---

In order to put the results of the IRIS survey into context, it must be understood what the current measures being taken by the Japanese government to combat the spread of COVID-19 entail. Most importantly, it should be noted that the state of emergency declared by the Prime Minister, first taking effect in Tokyo and six other prefectures before taking effect nationwide, has notable legal limitations in how it can enforce measures to mitigate the spread of COVID-19. What the state of emergency mainly allows is more authority by prefectural governments to exercise control over businesses involved in supply chains for essential goods, such as medical supplies and necessities, along with the ability to appropriate land and buildings for use as temporary medical facilities.(*1) Aside from that, however, the government cannot force public and private facilities to shut down, nor can it punish people who do not comply with social distancing rules. Measures against COVID-19 are therefore largely limited to the government "urging" people to stay at home, avoid social contact, and telework if possible.
Measures to combat the spread of COVID-19 therefore rely largely on public cooperation. However, this process has been muddled by an initial lack of clarity in what measures for the state of emergency entail and how the public should comply. The overall goal of declaring a national state of emergency, currently scheduled to end May 6, is for the public to cooperate in social distancing to reduce 70-80% of their social contact daily, through telework and avoiding unnecessary outings. Several issues, however, have hindered this process. First, the number of workers in Japan able to telework are largely in the minority, with 60 percent of workers continuing to commute to work.(*2) Second, financial aid measures to support those who are required to leave their homes to make a living, particularly small business owners, have been slow to take shape and are currently lacking in long-term solutions.(*3) Third, details for what type of businesses should close and how operations should change have been sluggish in their emergence, particularly in regard to establishments like izakaya pubs and pachinko parlors and setting limitations on the amount of people allowed inside places like grocery stores at a time.(*4) An initial lack of clarity as to how the public should comply to emergency measures to combat COVID-19 and the inability for many workers to comply due to their working situations has thereby made the state of emergency an arguably muddled and incremental process.
Despite these issues, the state of emergency has shown a degree of success, as some train stations in Tokyo have reported up to 60 percent decreases in daily commuters on weekdays; success, however, continues to be inconsistent throughout Tokyo and the nation.(*5) Against this backdrop, Japanese respondents were surveyed on how they view the government's response to COVID-19, with the survey concluding on April 15, shortly before the state of emergency was made nationwide. While responses will undoubtedly change and necessitate further research as the state of emergency in Japan continues, the results nonetheless offer a view into how the Japanese public feels about the situation compared to other countries that took part in the IRIS COVID-19 Public Sentiment Survey.
---
---

Respondents to the IRIS survey were asked several questions regarding how they viewed their respective governments' responses to the COVID-19 pandemic, in terms of official measures, how seriously the situation was being taken, how their government was handling the situation compared to other countries, the level of pride in one's country and healthcare system for handling the pandemic, and how citizens have responded to measures. The results of the survey for Japan show a low level of public confidence on nearly all these fronts, as shown below.
Respondents were first asked if their country's government was taking appropriate actions against the COVID-19 pandemic, with only 21 percent of Japanese respondents believing that the government was taking appropriate actions: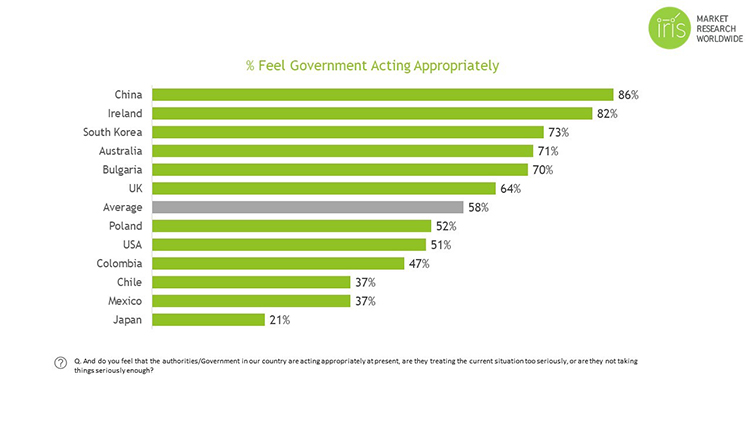 ---
---
The survey also found that 76 percent of respondents in Japan believed the government was not taking the situation seriously enough, compared to just 6 percent who felt the same in China and 16 percent in South Korea: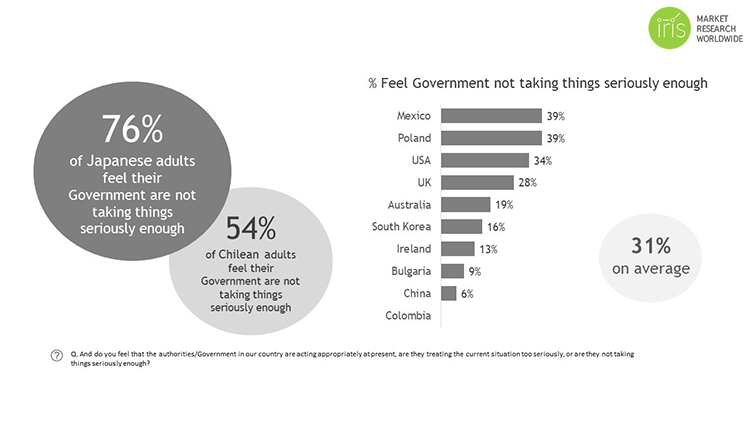 ---
---
Opinions on the efficacy of measures to combat the spread of COVID-19 proved even more pessimistic, with only 10 percent of Japanese viewing the government's efforts as effective: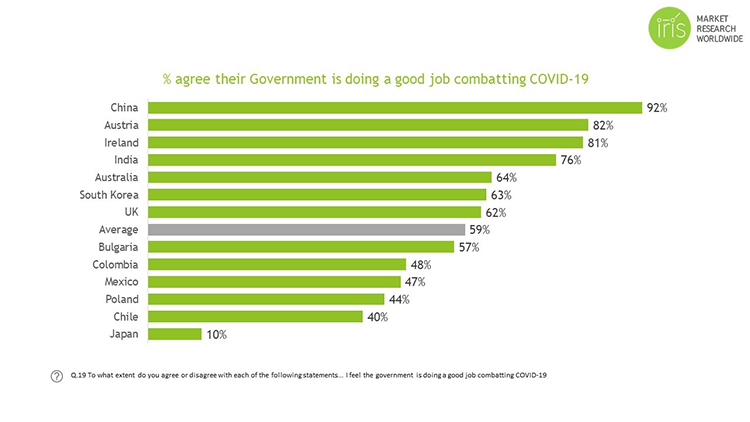 ---
---
When asked to compare Japan's response to other countries, results were similarly negative, with only 20 percent feeling that Japan was doing a better job compared to other countries: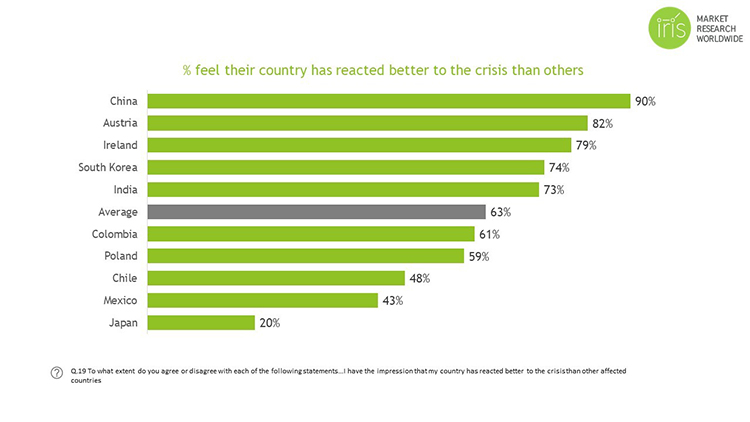 ---
---
National pride over Japan's handling of the situation was similarly low, with only 16 percent responding that they were proud of how Japan was handling the COVID-19 situation. Japanese respondents did, however, take pride in the performance of their healthcare professionals, with 80 percent having felt healthcare professionals were doing a good job, largely within the same margin of responses measured in other countries.
Clearly shown in the results above, Japan's public sentiment toward its government ranks among the lowest of countries surveyed, often by significant margins. The contrast is especially stark when compared to its regional neighbors, China and South Korea. China, the original epicenter of the pandemic, has generally moved to a phase of reopening areas of the country for economic activities, with South Korea similarly moving toward reopening after successfully flattening the curve of new infections after an explosive rise at the beginning of March. Meanwhile, Japan's total number of confirmed COVID-19 infections has surpassed South Korea's as of April 23, 2020. As the survey results show, there appears to be little confidence among the Japanese public that the government has the situation under control when compared to respondents from other countries.
Japanese respondents did not lay everything at the feet of the government, however; sentiment toward how the public was responding to the crisis was negative as well, with only 22 percent believing the Japanese public was acting appropriately regarding COVID-19, as shown below:
---
---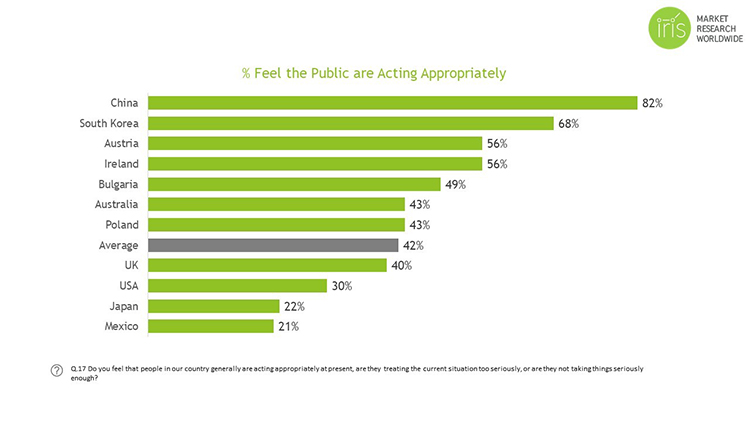 A lack of confidence in both the Japanese government and the public responding appropriately to the COVID-19 pandemic amongst respondents holds several implications as to what the cause may be. As mentioned above, measures enacted by the government in declaring a state of emergency have been muddled by a lack of clarity and roadblocks to their efficacy. Both an initial lack of clarity into how the public should comply to measures to combat COVID-19 and a lack of solutions for those who are unable to comply due to their working situations are likely to have contributed to the negative results from Japanese respondents. As results from further sections of the IRIS COVID-19 Public Sentiment Survey are examined, these implications will continue to be explored to better understand the feelings of Japanese respondents toward the government and public responses to COVID-19.
---
---

The results of the IRIS COVID-19 Public Sentiment Survey show a remarkably lower level of confidence in government from Japanese respondents, especially when compared to other countries. Further, a lack of confidence in the Japanese public responding appropriately to the COVID-19 situation can be observed as well. We will continue to look into how Japanese respondents fared in other areas covered by the IRIS survey, which measuring anxieties and fears over how the pandemic will affect the economy, job security, and respondents' overall outlook for the future, as well as how respondents understand COVID-19 and their attitudes toward the disease. Stay tuned as we continue to cover the full results of the IRIS COVID-19 Public Sentiment Survey in the coming days.
---
---
---
Part 2 >> Economic and Lifestyle Concerns
Part 3 >> Attitudes and Understanding of COVID-19
---
(*1) What changes under Japan's state of emergency declaration?/the japantimes
(*2)60% still go to office despite state of emergency over virus: Japan survey/the mainichi
(*3)Abe administration faces flak over hesitance to compensate virus-hit businesses/The japantimes
(*4)More prefectures consider suspending nonessential businesses to contain coronavirus/The japantimes
(*5)Emergency declaration sees differing degrees of success across Japan/The japantimes
---